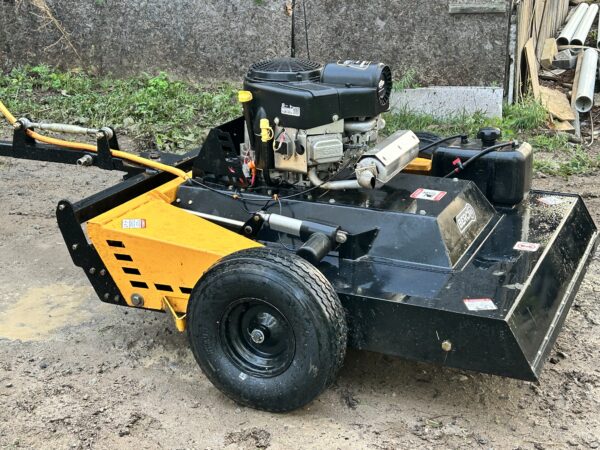 Berco towable brush cutter 44″
$300/day, $1200/week, $3600/month
Product Description
44″ Berco Rough Trail Cutter 20hp
THE ONLY ROUGH TRAIL CUTTER WHICH IS COMPLETELY CONTROLLED FROM THE DRIVER'S SEAT!
Unique in its category that is already equipped with an electric starter and cutting height
100% Fingertip Controls (control box is included)
Start the engine (Choice of: 17.5 or 20 HP Briggs & Stratton)
Raise and Lower the unit
Engage it
Emergency kill switch
Throttle arm
100% Safe
Equipped with an electric clutch to engage and stop the blades instantly
Emergency lanyard kill switch attached to operator and control box, will stop the motor instantly in case the operator leaves the vehicle .
Installation
Universal on all vehicles equipped with a 2″ rear ball hitch
Equipped with heavy duty blades which will go through shrubs and small twigs with ease.
$300/day, $1200/week, $3600/month